FILTER
Please go configure a sidebar block.
Suggest adding the filter block.
Translation missing: en.sections.collection_template.product_count
//laboitemystere.com/cdn/shop/products/PG000-264-CA1700-04_Telestrations-EditionQuebecoise_771x1000.jpg?v=1692538352

Telestrations - Édition Québécoise

Dessine ce que tu lis, et devine ce que tu vois! Tous les joueurs dessinent, devinent et rient en même temps en révélant des résultats hilarants et imprévisibles! But du jeu : Rire en masse avec le...

//laboitemystere.com/cdn/shop/products/2_a4b9f7eb-fa23-45fb-993a-edb9c8024379_771x1000.png?v=1692545821

TTMC? - Tu te mets combien? FR

Le jeu ULTIME de questions pour TOUT le monde. Dans cette version québécoise, jouez en individuel ou en équipe pour découvrir les 4100 questions bien de chez nous! Pour gagner, il faut parcourir le...

//laboitemystere.com/cdn/shop/products/1_fac62ced-4751-4d6f-bc7e-78ea8e303dea_771x1000.jpg?v=1692545817

TTMC? - Format de Voyage Vol. 1 FR

Une nouvelle addition à la série TTMC?, à la fois sous forme une extension et d'un stand-alone. Plus de 800 nouvelles questions sur 130 cartes. Sans compter qu'il sera possible d'écrire sur le plat...

Révélez des Jetons, éliminez les objectifs sur lesquels vous ne voulez pas parier et complétez les autres objectifs pour obtenir la victoire! Une partie se joue en plusieurs manches.  Chaque manch...

Le jeu de déduction le plus intelligent Turing Machine est un jeu de déduction compétitif unique en son genre.  Retrouvez le code secret à l'aide d'un ordinateur « mécanique » fonctionnant avec uni...

Skyjo, un jeu de cartes haut en couleur \n Skyjo est un jeu de cartes se déroulant en plusieurs manches. Le jeu prend fin lorsqu'un joueur atteint la barre des 100 points ou la dépasse. À la fin de...

TTMC? - Format de Voyage Vol. 2

La Sortie est pour 25/06/23 TTMC de voyage revient avec 860 questions inédites et un tout nouveau plateau!  Retrouve dans la boîte encore plus de cartes challenge semées d'embûches et de surprises....

Earth FR (RANDOLPH) (précommande)

Plongez  dans  l'univers  de  Earth,  le  jeu de société qui apporte la beauté du monde à votre  table!  Créez  des  écosystèmes autosuffisants    dans un jeu aux règles simples, offrant de multip...

La terre ferme n'est plus qu'un vague souvenir dans votre esprit lorsque vous l'apercevez: CATAN perce l'horizon. Votre mission ? Coloniser cette île pour y construire de prospères cités. Cependant...

En vacances?  La route est longue?  Ce Quiz de Poche est pour vous!  Une aventure qui vous transportera de la ville jusqu'à l'antre du Lazy Dragon!  Ensemble, répondez à des séquences de questions....

//laboitemystere.com/cdn/shop/products/29_771x1000.jpg?v=1692546241

//laboitemystere.com/cdn/shop/products/30_771x1000.jpg?v=1692546243

Développez votre science et votre armée, construisez de prestigieux bâtiments et menez votre civilisation à la victoire! 7 Wonders Duel est un jeu autonome dans l'univers de 7 Wonders, spécialement...

A GAME OF THRONES CATAN - BROTHERHOOD OF THE WATCH

La Garde de Nuit vous reconnaît comme un meneur né. Vous supervisez un petit groupe de vos frères d'arme dans leurs devoirs quotidiens. Vous devez vous assurer que les défenses du Mur soient entret...

//laboitemystere.com/cdn/shop/products/RANOSTI030FR_L_ostid_jeu-Lemeilleur_771x1000.jpg?v=1692545867

L'osti d'jeu - Le meilleur FR

UNE RÉFÉRENCE QUÉBÉCOISE: Le jeu de fête par excellence, un classique des temps modernes. À avoir absolument pour tous tes party!  LE MEILLEUR DE L'OSTI D'JEU: Rempli d'expressions québécoises, il ...

//laboitemystere.com/cdn/shop/products/image_128_7b4963dd-ca37-405d-9d02-1779ed256980_771x1000.jpg?v=1692538343

Ah Ouinnn? Édition 25+ FR

Un jeu pour apprendre à se connaître, parfait en date. L'idée de ce jeu consiste à deviner l'ordre de préférences des autres joueurs parmi 5 sujets. Plus vous devinez avec précision, plus vous gagn...

Troupeau est un jeu de party avec une mission simple : écrire la même réponse que tout le monde. Dans Troupeau, chaque ronde commence par une question au hasard à laquelle tout le monde écrit une r...

L'osti d'jeu - Ext Sexe & Bouffe FR

Editeur: RandolphProfil ludique: Créatif et SocialAuteur: RandolphAge minimum: 18Nombre de joueurs minimum: 3Nombre de joueurs maximum: 12Duree du jeu: 30
top
Added To Cart :
Add To Cart Failed :
prouduct successfully added to wishlist !
La Grading Guide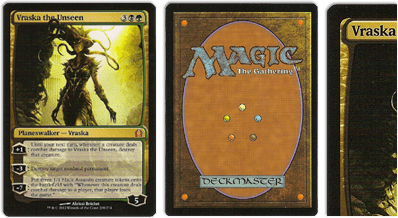 '
Near Mint (NM)'
Near Mint condition cards show minimal or no wear from play or handling and will have an unmarked surface, crisp corners, and otherwise pristine edges outside of minimal handling. Near Mint condition cards appear 'fresh out of the pack,' with edges and surfaces virtually free from all flaws. '
'
'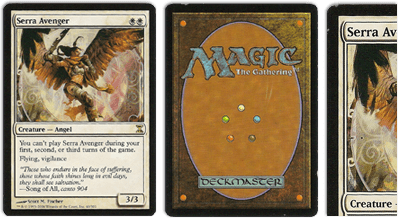 '
Lightly Played (LP)'
Lightly Played condition cards can have slight border or corner wear, or possibly minor scratches. No major defects are present, and there are less than 4 total flaws on the card. Lightly Played condition foils may have slight fading or indications of wear on the card face. '
'
'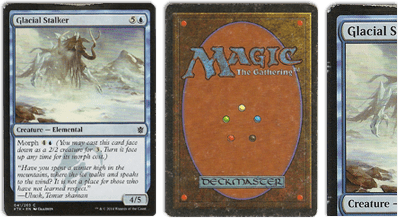 '
Moderately Played (MP)'
Moderately Played condition cards have moderate wear, or flaws apparent to the naked eye. Moderately Played condition cards can show moderate border wear, mild corner wear, water damage, scratches , creases or fading, light dirt buildup, or any combination of these defects. '
'
'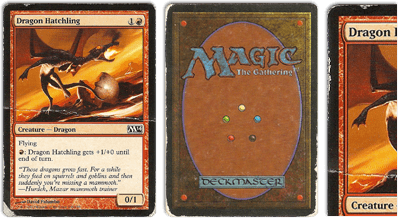 '
Heavily Played (HP)'
Heavily Played condition cards exhibit signs of heavy wear. Heavily Played condition cards may include cards that have significant creasing, folding, severe water damage, heavy whitening, heavy border wear, and /or tearing. '
'
'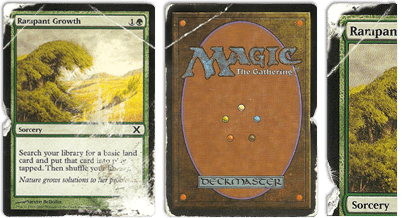 '
Damaged (D)'
Damaged condition cards show obvious tears, bends, or creases that could make the card illegal for tournament play, even when sleeved. Damaged condition cards have massive border wear, possible writing or major inking (ex. white-bordered cards with black-markered front borders), massive corner wear, prevalent scratching, folds, creases or tears. '
'
'
'