Mangle [CRU026] 1st Edition Rainbow Foil
Mangle [CRU026] 1st Edition Rainbow Foil
Vendor: Flesh And Blood
Product Type : Flesh And Blood Single
Hurry! Only
0
units left in stock!
| | |
| --- | --- |
| Set: | Crucible of War |
| Edition: | 1st Edition |
| Finish: | Rainbow Foil |
| Type: | Action |
| Subtype: | Attack |
| Rarity: | Majestic |
| Class: | Guardian |
| Cost: | 4 |
| Power: | 8 |
Crush - If Mangle deals 4 or more damage to a hero, destroy target equipment they control with a -1 [Defense] counter on it.
14 jours pour changer d'avis
Vous disposez d'un délai de 14 jours francs à compter de la réception de votre commande pour effectuer une demande de retour, d'échange ou de remboursement.
Note: Du à la volatilité des prix du marché, nous n'acceptons pas de retour sur les cartes à l'unité.
Conformément à la loi, les frais de livraison pour le retour sont à votre charge.
Nous procédons, à votre convenance :
- à la création d'un avoir valable sur une prochaine commande
- au remboursement des produits retournés
Comment effectuer votre demande de retour ?
Le retour et le remboursement seront acceptés à condition que votre produit :
- est retourné en l'état neuf et dans son emballage d'origine et non ouvert
- ne présente pas de traces d'usures, de chocs ou d'utilisation
- ne soit pas un article soldé
Les remboursements sur cartes de crédits peuvent prendre de 1 à 5 jours ouvrables, dépendamment de votre institution financière.
Pour effectuer un retour, contactez-nous au préalable en formulant votre demande écrite par mail à la Info@boite-mystere.com à la validation de notre part, vous pouvez retourner les articles concernés, par voie postale, en utilisant le carton ayant servi à leur expédition.
N'hésitez pas à protéger votre envoi et à joindre au colis un petit mot indiquant la référence de votre commande ainsi que votre préférence : remboursement ou avoir.
Adressez votre colis à :
La Boite mystère
330 D Curé-labelle, Laval, H7P 6G6,


Note: Du à la volatilité des prix du marché, nous n'acceptons pas de retour sur les cartes à l'unité.
top
Added To Cart :
Add To Cart Failed :
prouduct successfully added to wishlist !
La Grading Guide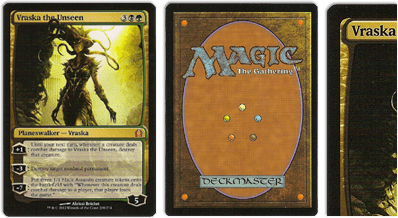 '
Near Mint (NM)'
Near Mint condition cards show minimal or no wear from play or handling and will have an unmarked surface, crisp corners, and otherwise pristine edges outside of minimal handling. Near Mint condition cards appear 'fresh out of the pack,' with edges and surfaces virtually free from all flaws. '
'
'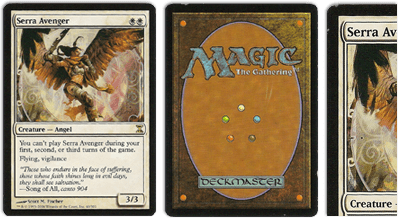 '
Lightly Played (LP)'
Lightly Played condition cards can have slight border or corner wear, or possibly minor scratches. No major defects are present, and there are less than 4 total flaws on the card. Lightly Played condition foils may have slight fading or indications of wear on the card face. '
'
'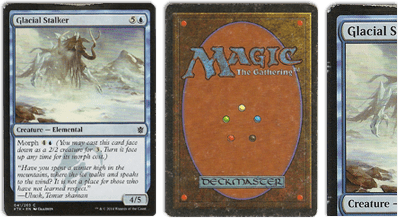 '
Moderately Played (MP)'
Moderately Played condition cards have moderate wear, or flaws apparent to the naked eye. Moderately Played condition cards can show moderate border wear, mild corner wear, water damage, scratches , creases or fading, light dirt buildup, or any combination of these defects. '
'
'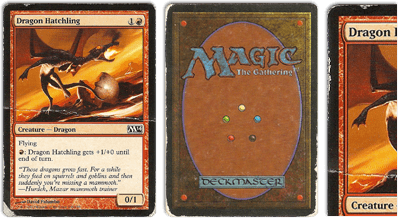 '
Heavily Played (HP)'
Heavily Played condition cards exhibit signs of heavy wear. Heavily Played condition cards may include cards that have significant creasing, folding, severe water damage, heavy whitening, heavy border wear, and /or tearing. '
'
'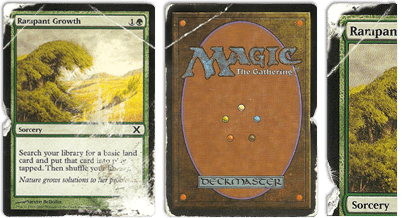 '
Damaged (D)'
Damaged condition cards show obvious tears, bends, or creases that could make the card illegal for tournament play, even when sleeved. Damaged condition cards have massive border wear, possible writing or major inking (ex. white-bordered cards with black-markered front borders), massive corner wear, prevalent scratching, folds, creases or tears. '
'
'
'