Politique de confidentialité
Boite-Mystère.com s'engage à protéger votre vie privée. Nous utilisons uniquement les informations que nous recueillons à votre sujet pour traiter les commandes et pour fournir une assistance et des mises à niveau pour nos produits. Veuillez lire la suite pour plus de détails sur notre politique de confidentialité.
Quelles informations collectons-nous? Comment l'utilisons-nous?
Lorsque vous commandez, nous devons connaître votre nom, votre adresse e-mail, votre adresse postale, votre numéro de carte de crédit et votre date d'expiration. Cela nous permet de traiter et d'exécuter votre commande et de vous informer de l'état de votre commande. Lorsque vous participez à un concours ou à une autre fonctionnalité promotionnelle, nous pouvons vous demander votre nom, votre adresse et votre adresse e-mail afin que nous puissions gérer le concours et informer les gagnants. Vous acceptez d'être ajouté à notre liste de diffusion pour de futures promotions et offres. Lorsque vous commandez sur notre site Web, vous acceptez de recevoir des bulletins d'information sur les promotions, les coupons et les annonces importantes de l'entreprise. Tous les e-mails sont envoyés via ConstantContact et vous pouvez vous désinscrire si vous ne souhaitez plus recevoir de newsletters de notre part ou de nos partenaires MTG.
Comment La Boite Mystère protège-t-il les informations client?
Nous utilisons un serveur sécurisé pour collecter des informations personnelles et de carte de crédit. La couche de serveur sécurisé (SSL) crypte (brouille) toutes les informations que vous entrez avant qu'elles ne soient transmises sur Internet et nous soient envoyées. De plus, toutes les données client que nous collectons sont protégées contre tout accès non autorisé.
Et les "cookies"?
Les «cookies» sont de petites informations stockées par votre navigateur sur le disque dur de votre ordinateur. Nous n'utilisons pas de cookies pour collecter ou stocker des informations sur les visiteurs ou les clients.
Boite-mystere.com divulguera-t-il les informations qu'il recueille à des tiers?
Boite-mystere.com ne vend, n'échange ou ne loue pas vos informations personnelles à des sociétés non affiliées à Boite-mystere.com. Boite-mystere.com  peut fournir des statistiques agrégées sur nos clients, les ventes, les modèles de trafic et les informations de site connexes à des fournisseurs tiers de bonne réputation, mais ces statistiques n'incluront pas d'informations d'identification personnelle.
Boite-mystere.com  peut divulguer des informations de compte lorsque nous pensons, de bonne foi, qu'une telle divulgation est raisonnablement nécessaire pour  se conformer à la loi,  appliquer ou appliquer les termes de l'un de nos accords d'utilisation ou  protéger les droits , propriété ou sécurité de boite-mystere.com, de nos utilisateurs ou autres.
En résumé
boite-mystere.com  s'engage à protéger votre vie privée. Nous utilisons les informations que nous collectons sur le site pour rendre les achats sur Boite-Mystere.com aussi simples que possible et pour améliorer votre expérience d'achat globale. Nous ne vendons, n'échangeons ni ne louons vos informations personnelles à des tiers.
top
Added To Cart :
Add To Cart Failed :
prouduct successfully added to wishlist !
La Grading Guide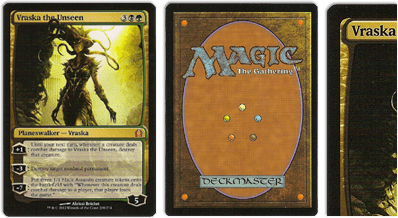 '
Near Mint (NM)'
Near Mint condition cards show minimal or no wear from play or handling and will have an unmarked surface, crisp corners, and otherwise pristine edges outside of minimal handling. Near Mint condition cards appear 'fresh out of the pack,' with edges and surfaces virtually free from all flaws. '
'
'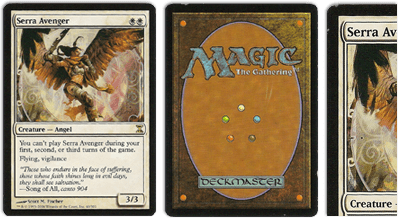 '
Lightly Played (LP)'
Lightly Played condition cards can have slight border or corner wear, or possibly minor scratches. No major defects are present, and there are less than 4 total flaws on the card. Lightly Played condition foils may have slight fading or indications of wear on the card face. '
'
'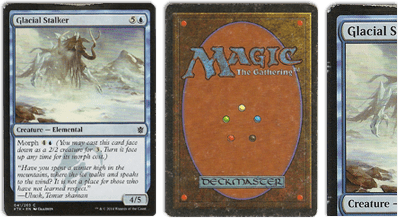 '
Moderately Played (MP)'
Moderately Played condition cards have moderate wear, or flaws apparent to the naked eye. Moderately Played condition cards can show moderate border wear, mild corner wear, water damage, scratches , creases or fading, light dirt buildup, or any combination of these defects. '
'
'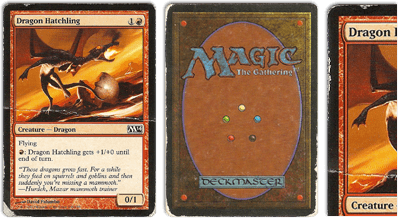 '
Heavily Played (HP)'
Heavily Played condition cards exhibit signs of heavy wear. Heavily Played condition cards may include cards that have significant creasing, folding, severe water damage, heavy whitening, heavy border wear, and /or tearing. '
'
'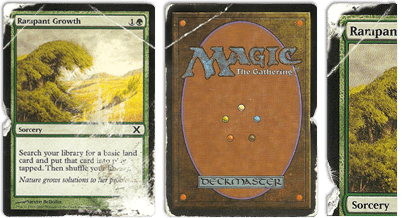 '
Damaged (D)'
Damaged condition cards show obvious tears, bends, or creases that could make the card illegal for tournament play, even when sleeved. Damaged condition cards have massive border wear, possible writing or major inking (ex. white-bordered cards with black-markered front borders), massive corner wear, prevalent scratching, folds, creases or tears. '
'
'
'